(STEP 1) SESSION START
Secure access to the OptiCrib™ can be granted in a variety of ways depending on the company's preference including one or more of the following: employee badge reader, smart phone app with QR code, verbal password, PIN number, or facial recognition. Entry starts the computer vision session.
(STEP 2) PRODUCT LOOK UP
To save time, products can be quickly located using the product finder on the Shopper User Interface. Product availability and other inquiries are also available remotely by your PC or any mobile device through the Inventory System.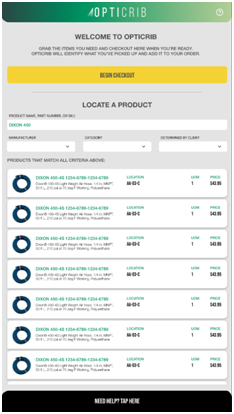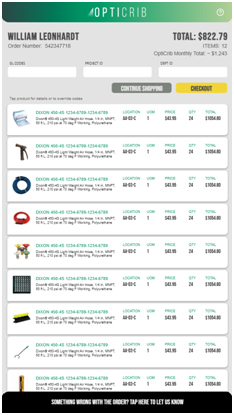 (STEP 3) ACTIVITY TRACKING
While shoppers are in the storeroom, strategically-placed cameras monitor the scene. Deep learning models running on local servers track and correlate shopping activity and products selected through these video feeds, monitoring up to one shopper per 100 square feet.
(STEP 4) DYNAMIC CART
Activity tracking combined with A.I.-based product recognition, and in some cases weight signals, allow for the system to determine when employees interact with products and whether to add or subtract them from their basket.
(STEP 5) CHECKOUT
After the shopper is finished, the employee reviews their order on the Shopper User Interface (the touchscreen tablet), as well as confirming their cost accounting selections. Upon exiting the storeroom, items that the employee took are charged against the GL code, project #, and dept # as designated by the employee, and a receipt is emailed to the employee. This data is then made available via direct XML integration with the accounting system or via CSV / spreadsheet.